Restorative Yoga
This class is taught by: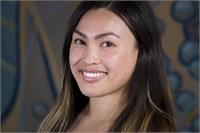 Devoted to the Greater Good, I center my practices around holistic wellness and helping others meet their full, pure potential. Halfway through my last year of high school in 2009, I took my first yoga class. Without a doubt, yoga united my mind, body, and spirit creating the strongest of unions. After about 5 years of practice, progress, and growing passion, I delved even deeper into my journey and completed my 200 hour vinyasa yoga teacher training mid-2014.
Cultivating mindfulness through movement, quieting the mind, and freeing the spirit through my teachings are my passions. I teach an array of yoga forms—from gentle, feel-good flows and slow-paced, beginner flows to fiery, power vinyasa and yin style, restorative yoga—to amazing human Beings of all walks of life. My heart warms at the thought of sharing space and creating magic with you!
Love, Light + Wealth in Health,
Restorative classes are designed for students to replenish their nervous and digestive systems, teaching us how to truly rest, restore, and replenish. Props are used to assist students into specific positions that allow the body to release tension and allow for optimum performance in the organs and muscles. Highly recommended for busy people and those suffering from injury, stress, anxiety, insomnia, depression, high blood pressure, digestive issues, or fatigue.
Level: All levels
Duration: 60 minutes
Music: yes
Upcoming classes: