Morning Meditation 30
This class is taught by: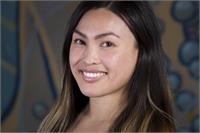 Devoted to the Greater Good, I center my practices around holistic wellness and helping others meet their full, pure potential. Halfway through my last year of high school in 2009, I took my first yoga class. Without a doubt, yoga united my mind, body, and spirit creating the strongest of unions. After about 5 years of practice, progress, and growing passion, I delved even deeper into my journey and completed my 200 hour vinyasa yoga teacher training mid-2014.
Cultivating mindfulness through movement, quieting the mind, and freeing the spirit through my teachings are my passions. I teach an array of yoga forms—from gentle, feel-good flows and slow-paced, beginner flows to fiery, power vinyasa and yin style, restorative yoga—to amazing human Beings of all walks of life. My heart warms at the thought of sharing space and creating magic with you!
Love, Light + Wealth in Health,
Whether you are new to meditation or have an existing practice, this short and sweet class is the perfect morning dose of calm and quiet. Using various mindfulness meditation techniques, you'll connect with the present moment as you become aware of your thoughts, feelings and sensations. Release judgement, get curious, find acceptance for what is, and ease your mind. This practice is intended to be brought off your mat or cushion and into everyday life.
No experience necessary. All levels of practitioners are welcome. You can sit with us!