Warm Vinyasa 75
This class is taught by: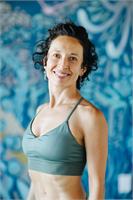 After graduating from UC Berkeley with a degree in Economics, I spun my wheels in corporate America until I rather sanely decided to trade my cubicle for a yoga mat. I took my first yoga teacher training in the Anusara style in 2008, and I've been teaching ever since. Along my journey, I've become a Certified AIReal YogaTM Instructor and a performance acrobat. I like to think that my classes are playful yet still focused on alignment, proper body mechanics, and making deeper connections, as well as lots of handstand-y postures and cheesy jokes.
I'm a performer at heart and cirque is my passion. I've had the opportunity to perform at many venues across southern California, as well as on reality television. If you want to catch me on the small screen, I can be found on Season 2 of truTV's "Fake Off," performing alongside members of Astra Dance Theatre while wearing very big hair and gobs of makeup.
I consider yoga to be a central element of my wellbeing. I've used my practice to help piece myself back together after a moderate lumbar injury and, in a separate incident, a serious neck fracture. I find yoga to be a multifaceted package of awesome, and I love the opportunity to share the practice's many benefits with my students, and quite frankly, anyone willing to give me an ear.
When I'm not teaching yoga or performing circus arts on stage, I'm working on my urban farmstead. Together with my husband (acro and life partner), I grow my own veggies, raise livestock, preserves foods, brew kombucha, sew, and make almost every meal mostly from scratch. I am the proud mama of two turkeys, too many chickens to count, 3 pygmy goats, and two very spoiled cats. I may have left college with a mundane bachelor's degree, but Berkeley, known for its books and Birkenstocks, definitely planted a seed. It just took a few years and a whole lot of yoga to help me discover my inner granola-eating-greens-sprouting-animal-rescuing-organics-promoting-asana-practicing-tree-hugging-hippie.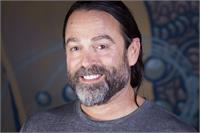 Yoga has been a beautiful transformational journey. Through my practice I have gained tools to observe myself more honestly and have formed improved discipline to let go of old thought patterns, habits and emotions that no longer serve my connection to the greatest good.
I was called to serve my community with the founding of YogaBody studios during the summer of 2011. Today, I enjoy teaching weekly classes to an evolving community of amazing human beings from all walks of life. Yoga has taught me that community is no doubt our greatest currency and I stand humbled by the wealth that surrounds me. Please join me in class soon and let's gratefully celebrate our prosperity together.
A more challenging intense flow of dynamic movement linked with breath in a warm room to encourage detoxification through sweat and enhance muscle and joint opening. This is an intermediate to advanced class that focuses on transitions and poses that help to develop greater strength, flexibility and balance with an emphasis on safe alignment and mindful breathing. Be prepared to work hard, let go, and sweat!

Level: intermediate to advanced
Duration: 75 minutes
Temperature: 80°-85°
Music: yes
Upcoming classes: