Yin Yoga
This class is taught by: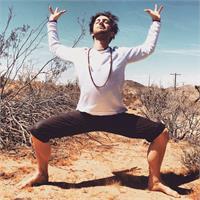 Brian Shaheen, ERYT-200 RYT-500, I have studied under Leeza Villagomez for 6 years and I have completed my 500YTT with her yoga school, after finishing my training I was asked to be an assistant in her teacher training. I also have had the pleasure to study with Saul David Raye, Janet Stone and Shiva Rea. Yoga is more then just asana to me now; in the beginning I was attracted to physical benefits of the practice, now it's just the complete mind body connection and how I view situations and my reactions. My training has really been focused on less is more, but also learning how the let go of the baby blanket and explore while being safe and conscious. I hope students that practice with me can just let go and drop expectations and really enjoy their inhales and exhales, while respecting where they are at in the moment with the heart open.
This quiet, meditative practice encourages mindful non-judgmental awareness of the present moment by holding long passive stretches (3-10 minutes). Through deep relaxation, we release deeply held tension targeting the hips, pelvis and lower back working safely into the connective tissues and ligaments making them stronger and more pliant. Yin yoga increases the body's energy distribution by cleansing the energy channels that run through the body's connective tissue, creating an effect similar to that of acupuncture.
All levels welcome
Duration: 60 minutes
Temperature: 78 degrees
Music: yes
Upcoming classes: