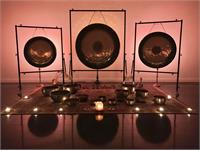 Sacred Sounds :: Tibetan Bowl & Gong Meditation

with

Jonathan

De Leon
Sat, Sep 16, 2017 at 7:30 pm - 9:00 pm
In this special ALL levels event participants will be guided through a series of seated listening and breathing techniques (designed to significantly reduce stress, increase focus and concentration, as well as motivate new levels of awareness and insight) followed by a Tibetan singing bowl and gong sound meditation where one can simply lie back, relax, and listen in an environment intended to support, strengthen, and cultivate our own inner sense of well-being.
Benefits of meditation using sound:
- Dramatically reduces stress
- Improves sleep
- Increased ability to focus and concentrate
- Improves memory and cognition
- Heightens creativity and imagination
- Develops a greater sense of willpower and self-control
- Boosts the immune system
- Decreases symptoms of depression, anxiety, and ADHD
A one of a kind combination of highly specialized sound instruments will be used, consisting of:
- 16 authenticated ancient Tibetan singing bowls
- 38" Paiste planetary Sun gong
- 28" Paiste planetary Jupiter gong
- 24" Paiste planetary Synodic Moon gong
All Tibetan bowls are amplified by a stereo quality sound system to create the most immersive sound meditation experience for you possible!
---------------------------------------------
Class Tickets - $25
Click the link below to sign up!.
------------------------------------------
What to bring:
- Yoga (or similar size/type) Mat
Optional:
- Eye Pillow
- Small blanket
- Yoga block and/or Yoga bolster or Pillow for added comfort
These all make for optimal comfort so there can be as little physical discomfort/distraction as possible from receiving what this experience has to offer.
*Please plan on arriving between 5-10 minutes early to select and set up your space.
------------------------------------------
Class Instructor Bio:
For the past 6 years, Jonathan De Leon has been working with Tibetan singing bowls and gongs at various yoga studios, retreat, wellness, and medical centers throughout CA to assist others toward their own personal growth and practice of meditation. With these ancient instruments, he seeks to create peaceful and soothing soundscapes that provide an ideal environment from which to practice meditation and cultivate the skills necessary for maintaining one's own personal sense of happiness and well-being.
For more info about the class instructor, please visit Jonathan's Facebook page at: www.facebook.com/soundembodiment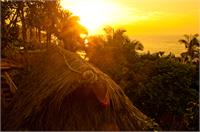 Xinalani Eco Retreat with Susan, Scott & Chadd

with

Scott

Winslow
Next held on Sat, Dec 9, 2017 at 8:00 am - 5:00 pm
This
enrollment
runs from Sat Dec 9, 2017 - Sat Dec 16, 2017
location: Xinilani Eco Retreat, Puerto Vallarta, Mexico
Instructors: Scott Winslow, Susan Tao & Chadd Marcus
Date: Dec 9 2017 - Dec 16 2017
Cost: $1250 - $3500
Investment includes:
8 days and 7 night stay in a beach front eco chic retreat surround by lush jungle waiting to be explored.
Twice daily yoga and meditation classes led by either Scott, Susan and/or Chadd - designed to remove blockages and allow for a more harmonious balance of the physical, mental, emotional and energetic self. Suitable for all skill levels.
Xinalani resident chef will prepare 3 nourishing locally sourced meals each day served on the dining patio overlooking your own private beach. All included!
Payment Plan avaialable ($500 deposit to hold room)
Dwelling options: (Petite Suites and Deluxe Rooms are now wait list options only. Contact us for availability)
Eco-Chic Suites (1 king size bed or 2 double beds) $3299 single / $2499 double
8 Available (2 left)
Petite Suites (2 double beds or 1 queen size bed) $2899 single / $2099 double
5 Available (0 left)
Deluxe Rooms (2 single beds or 1 double bed) $2499 single / $1899 double
8 Available (0 left)
Small Palapa (4 single beds) $1799 single
(Book as a Group. Perfect for Girl's Getaway!)
Big Palapa Co-Ed (8 single beds) $ 1699 single
(Ask about discount to book 1 group!)
Airfare to Mexico and additional recreational activities are not included in listed rates.
Space is limited so register today online or over the email us at info@yogabodystudios.com
"Xinalani is one of the 7 most spectacular places to practice yoga in the world" - Yoga Journal
www.xinalaniretreat.com