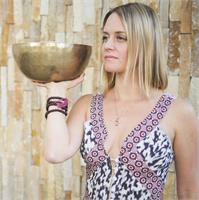 Yin & Sound Healing

with

Sandra Winslow & Lynda

Arnold
Sat, Nov 10, 2018 at 6:00 pm - 8:00 pm
Prepare to dive deep into your connective tissue and release pent-up stress during this 90-minute yin yoga experience while you sink into the sonic backdrop of ambient sounds.
Lynda Arnold is a seasoned Multi-instrumentalist, Music Producer, Educator and Performer with multiple music releases on a variety of international labels including on her own independent label. Her music is an eclectic brand of ethereal electronic songs and chill instrumentals released under her moniker, 'Divasonic.' She recently released her first meditation album featuring her Tibetan Bowls called 'Tibetan Bowl Meditations.' Her journey into Sound Healing is yet another extension of finding her own well-being and spirit through music and sound. In turn, she intends to provide a gateway for others to transform and heal through sound as well.
YogaBody Studios Founder/Teacher Sandra Winslow: My yoga journey began in 2011. Upon taking my first yoga class I knew I would be a lifelong yogi. I immediately enrolled in teacher training and received my certification a few months after my first class! I quit my job as an HR Director and began a fast-track journey into a full-time yogi, teaching several classes a day. It was a very scary transition but my practice allowed me to recognize my fears, overcome them, and empowered me to follow my heart. Yoga has given me the tools to begin unpeeling the layers of subconscious thoughts that do not serve me so that I may embrace life more fully with an abundance of love, compassion, and joy. When we deepen our breath and quiet our mind, we can accept and love ourselves just as we are. The people I cross paths with on a daily basis are the reason I'm on this journey. To be able to share my passion with beautiful souls every day is a dream come true. I am beyond blessed to be a part of this community and I look forward to sharing space with you.
$30 - General Admission
In honor of Veteran's Day weekend, we are offering veterans 50% off! Thank you for your service!
Please Register in Advance
Pre-Holiday Play - Intro to AcroYoga

with

Mod

Plank
Sun, Nov 18, 2018 at 2:00 pm - 4:00 pm
Pre-Holiday Play - Intro to AcroYoga
Join the high vibe tribe at YogaBody for some AcroYoga fun. Enjoy an afternoon of play before the holidays arrive and open yourself to a blissful sense of freedom to set the tone for the remainder of 2018. We will move through an introduction to partner work, assisted inversions, and fun acro. No partner is necessary. Just bring an open heart and a willingness to try new things. Together, let's get grounded for the holiday season… by taking flight!
Yogi Note: We love everyone, especially beginners! This workshop is for you! Please ask any one of our tribe members if you have questions regarding participation in this playshop event.
About Mod Plank
After graduating from UC Berkeley with a degree in Economics, Mod spun her wheels in corporate America for several years. Then, she found yoga… and everything changed. She took her first teacher training in the Anusara style in 2008, and she's been teaching ever since. Along the way, she became a performance acrobat and a Certified AIReal YogaTM instructor. She teaches playful yoga classes that focus on alignment, proper body mechanics, and making deeper connections. She also teaches Acro Yoga and Acro Balancing.
Mod performs in an acro duo with her husband for various productions. She can be seen performing at various venues across Southern California, as well as on Season 2 of TruTV's "Fake Off." She has an upcoming reality tv project in the works that has yet to be released. Stay tuned.